Nextiva Analytics

To make faster, better decisions for your business
1-5 USERS
$5000/mo
---
Summary Reports
Call Group Reports
Custom Reports
Dashboards
Wallboards
Gamification
Trend Analysis
Comparison Analysis
Period over Period
includes storage
---
5+ USERS
$5000/mo
plus $5/per line*
---
Summary Reports
Call Group Reports
Custom Reports
Dashboards
Wallboards
Gamification
Trend Analysis
Comparison Analysis
Period over Period
Includes storage
*number of lines in account
---
Overview: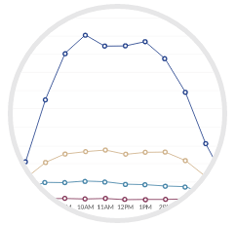 VIEW
Visualize data clearly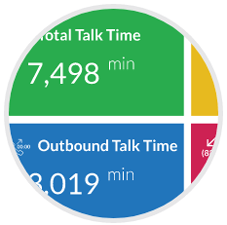 ANALYZE
Interpret to gain actionable insight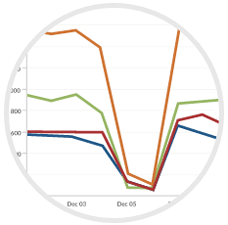 ACT
Make informed decisions quickly
Instantly view the data you're interested in
View call activity for your entire organization, or filter down to a specific location, call group, user, or even phone number
Create custom reports tailored to your business needs, on the fly or scheduled to distribute regularly
Build custom dashboards to keep the reports you care about most on one screen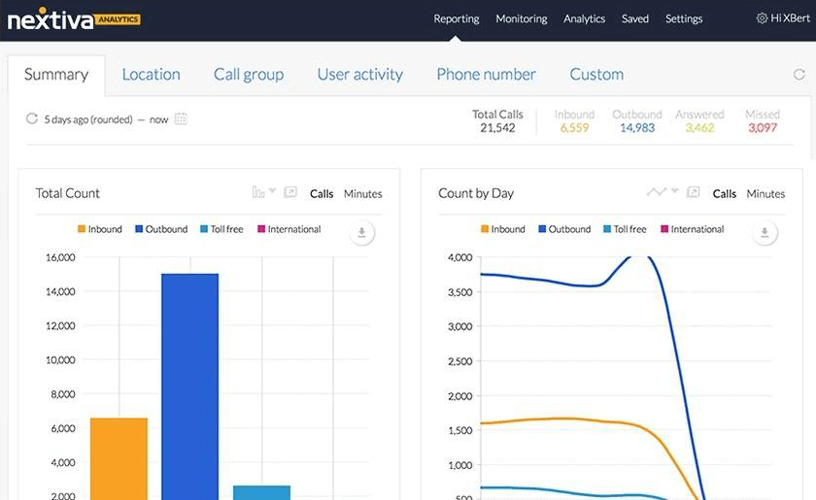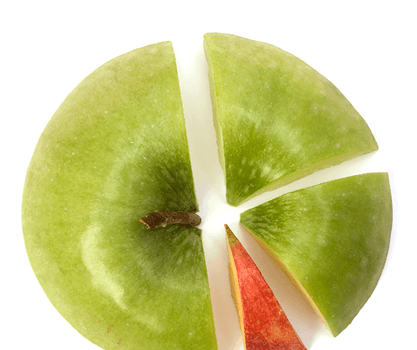 Analysis that's addictive
Instantly access historical data to make informed business decisions
Predict business outcomes based on prior performance
Get a snapshot of your business at any time
Promote transparency
Display your business critical information with customized Wallboards
Broadcast real-time information to empower agile decision-making across the office
Decrease reaction time to identify and resolve issues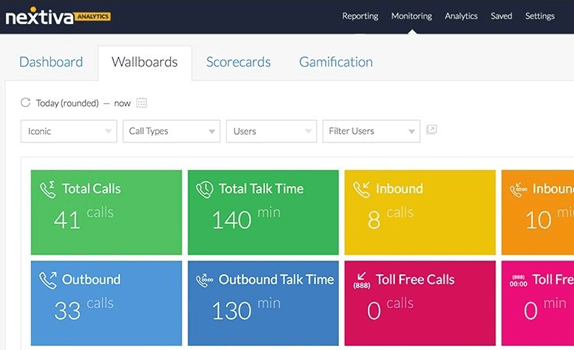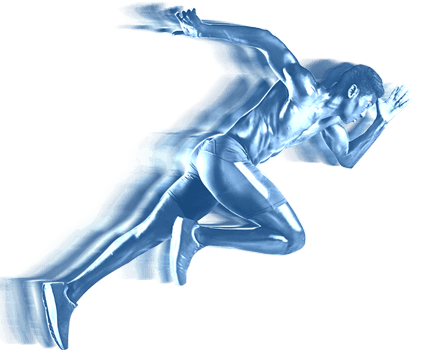 Gamify your company to greatness
Create competition to motivate performance
Increase employee engagement
Foster staff accountability
Stay ahead of the curve
Turn data into actionable information to gain a competitive advantage
Maintain an objective, long-term view of business performance
Predict future outcomes based on prior results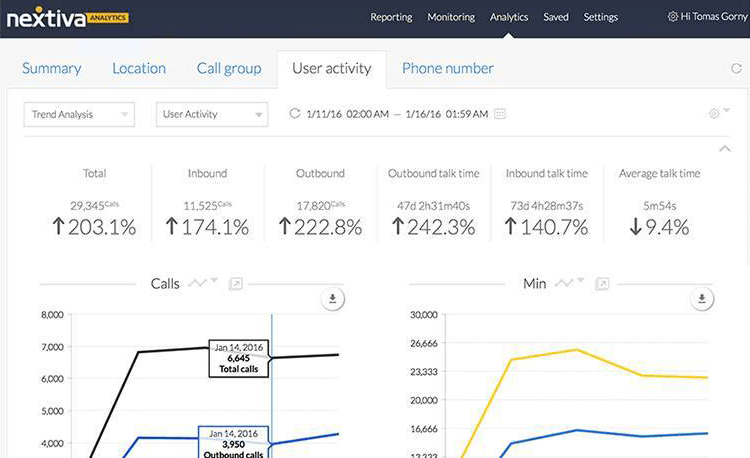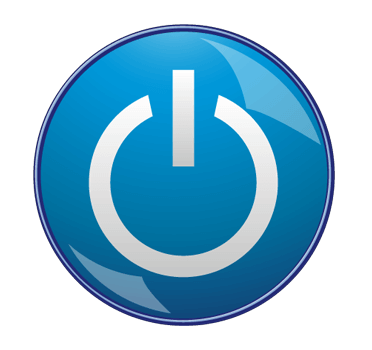 Migration shmigration
If you have Nextiva Office, your data is instantly available in Analytics
No migration or configuration necessary
Sign up now, and gain immediate access to your call data
Features:
Nextiva Analytics makes it easy to View, Analyze, and Act your way to better business

Summary Reports
Get a snapshot of call activity for your entire organization, with historical or real-time data

Call Group Reports
Analyze data for a specific group of employees to better understand of business and staffing needs

Custom Reports
Generate reports tailored to your specific businesss needs and objectives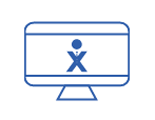 Custom Dashboards
Keep the reports you care about the most on one screen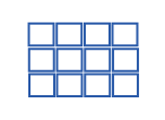 Wallboards
Display business-critical information to increase transparency and empower agile decision-making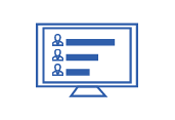 Gamification
Create competition among employees and teams to motivate performance and increase engagement

Trend Analysis
Identify patterns in your call activity to address issues or generate projections

Comparison Analysis
Draw comparisons between users, locations, call groups, queues, and phone numbers

Period Over Period
Measure growth, and understand the direct effects of business activities and decisions
Reporting: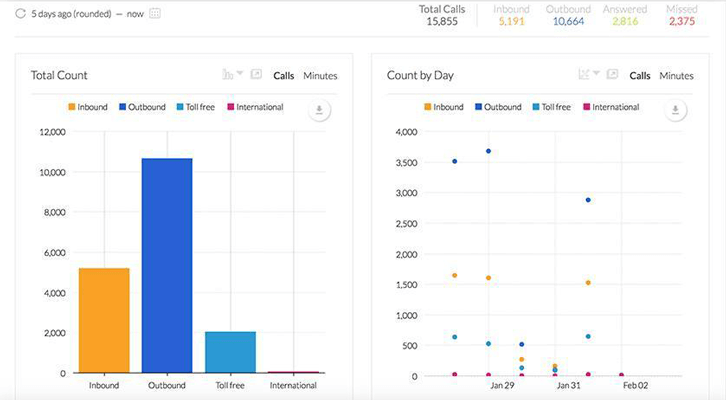 See an overview of activity for your entire organization,
or broken down by user, location, call group, or phone number
Break down data by call type
See your total call activity, in calls or minutes
Interactive graphs and maps
Drill down to see the detail you need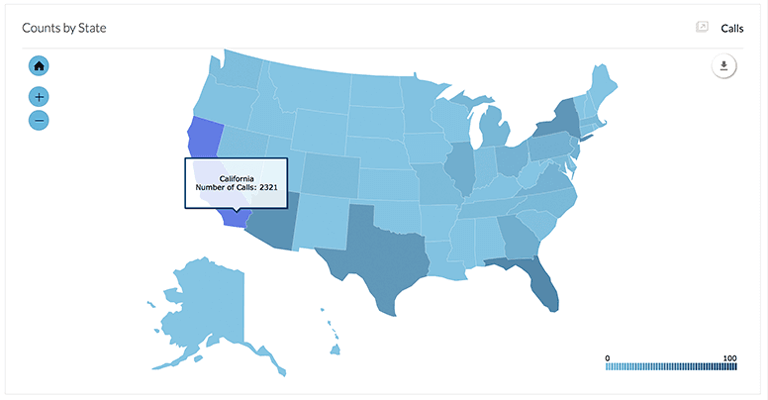 Access call recordings directly from reports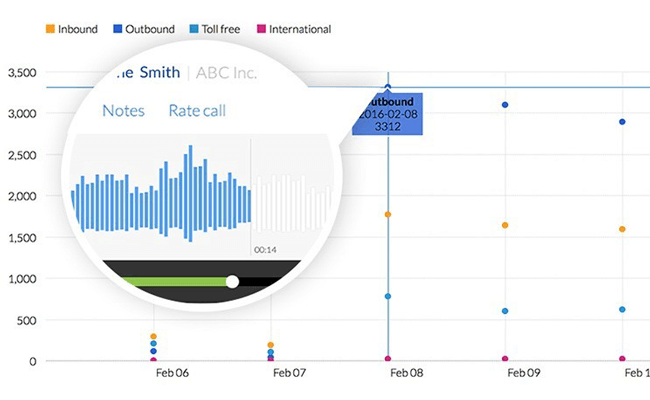 Custom reports
Only you can create the perfect report for your business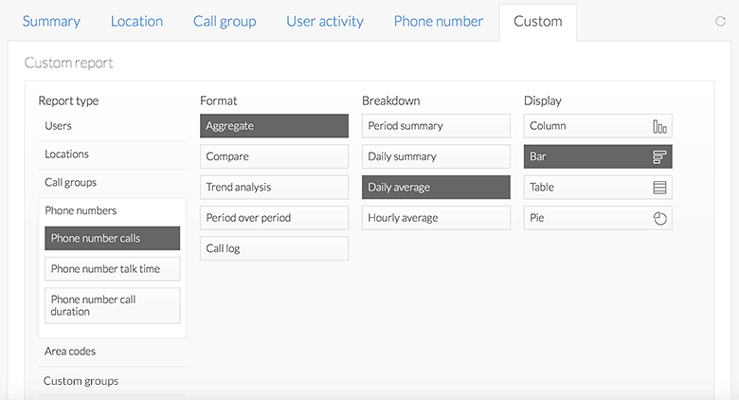 250+ report templates, infinite combinations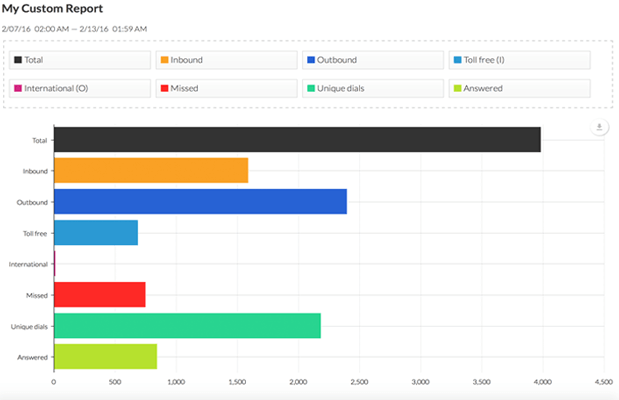 Run custom reports on the fly or set them to distribute automatically
Monitoring: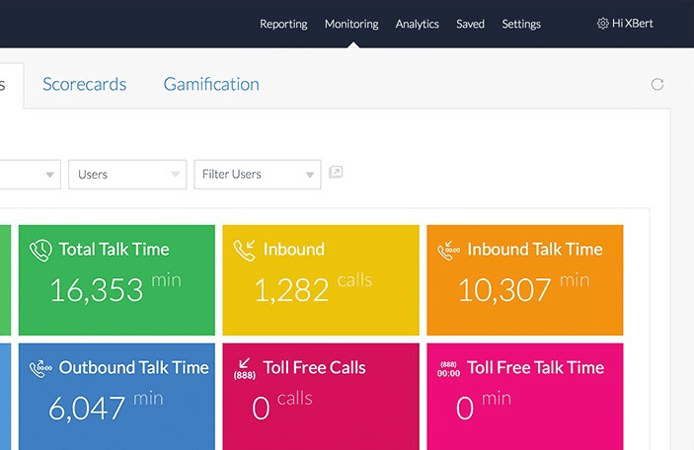 Wallboards can be displayed around your office to share real-time information with teams
Identify and resolve issues faster
Customizable dashboards keep your finger on the pulse of your business
The reports you care about the most, on one screen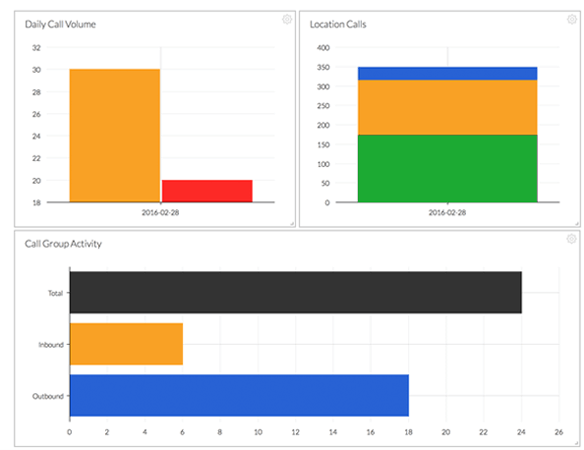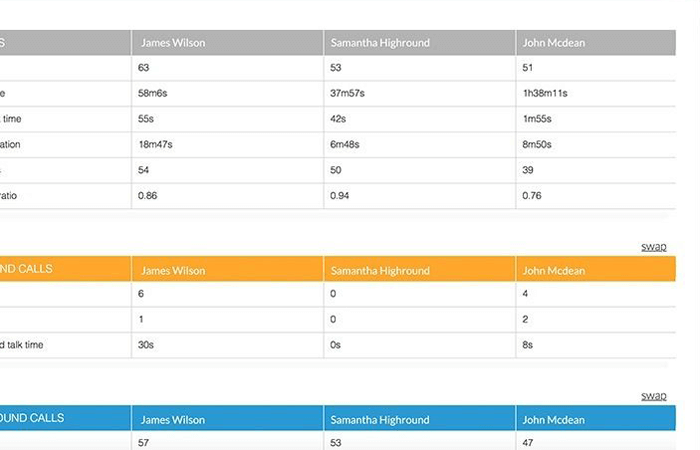 Scorecards are great for those who don't want all the colors
- they just want to know the score
Analytics:
Identify patterns in your call activity
Analyze how your decisions and initiatives impact your business trends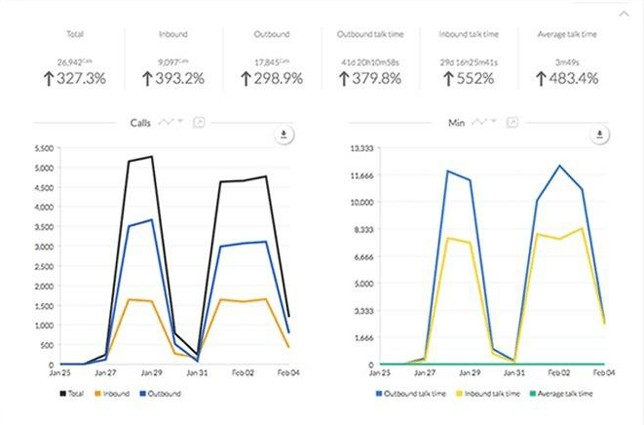 Predict where your business is going to get ahead of the curve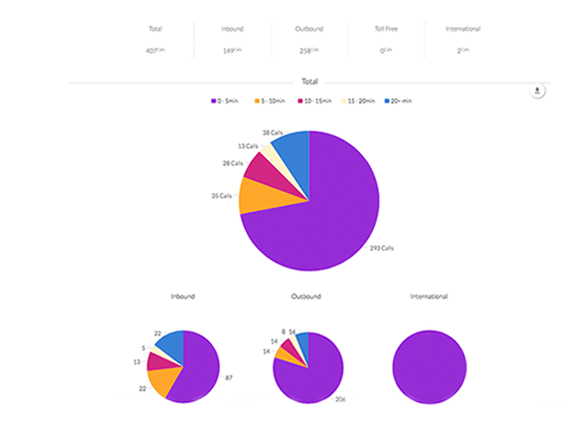 Build metrics around how long your customers and agents are on the phone
Are prospective customers engaged?
Are your agents resolving issues efficiently?
Gain an objective long-term view of your business performance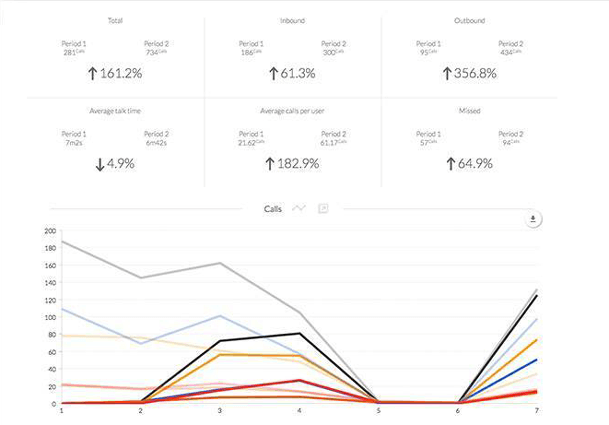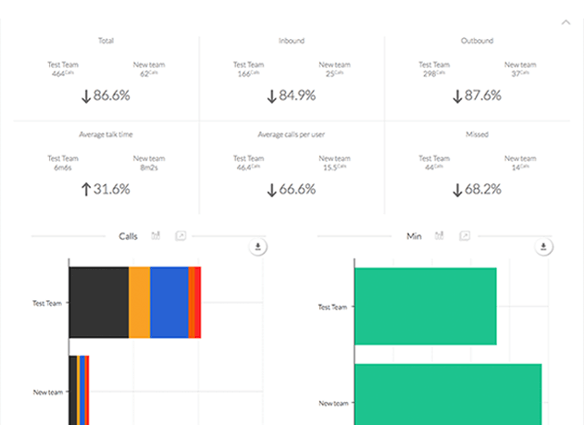 Compare data between locations, call groups, users, and phone numbers
Track (A/B test) success of marketing campaign and business initiatives
Why get Nextiva Analytics for your business?
With our intuitive software, it's easy to make smart, data-driven decisions for your business

VIEW
Instantly access and visualize information

ANALYZE
Interpret data and gain clear insight

ACT
Make faster, better business decisions

INCREASE REVENUE
Boost team performance and accurately assess staffing needs

GROW
Scale your business more efficiently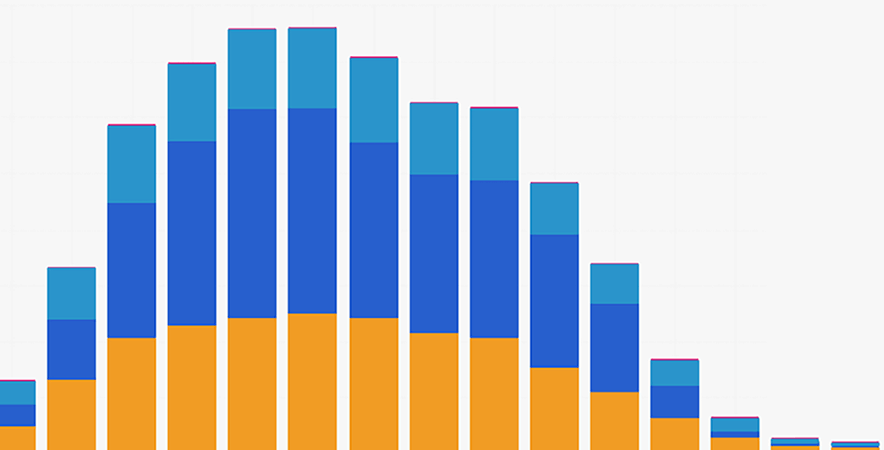 Instant, infinite insight
Get immediate access to all your call activity data, and see your business (employee performance, impact of marketing activities, etc) clearer than ever
Value across the business
Actionable, valuable insight for every role in your organization
CEO
View your most business-critical reports on one screen with Custom Dashboards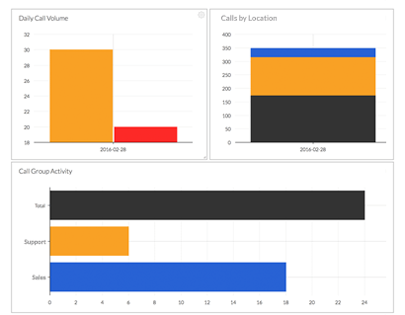 Operations
With Call Duration Analysis, you can see how long customers are spending on the phone to get issues resolved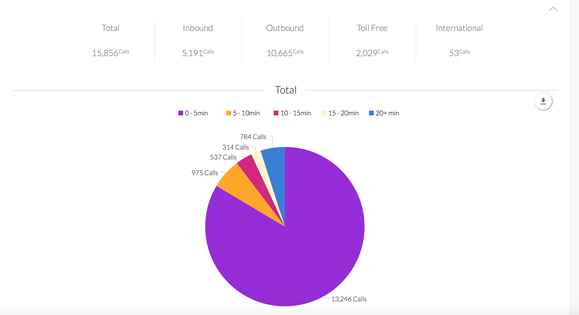 Sales
Measure and motive performance for individuals or teams with Gamification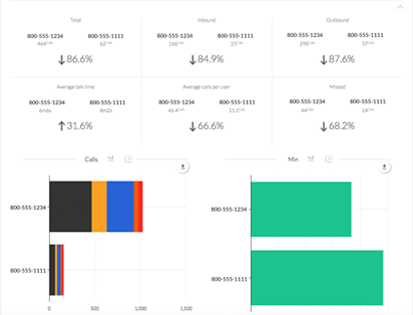 Marketing
Track the success of marketing campaigns and A/B tests with Comparison Analysis of call volume by phone number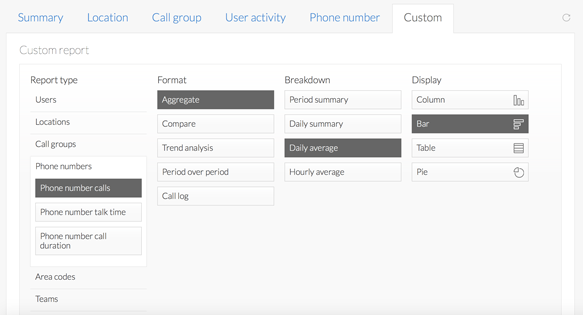 Analyst
Say goodbye to spreadsheets - create Custom Reports and schedule them to run and distribute automatically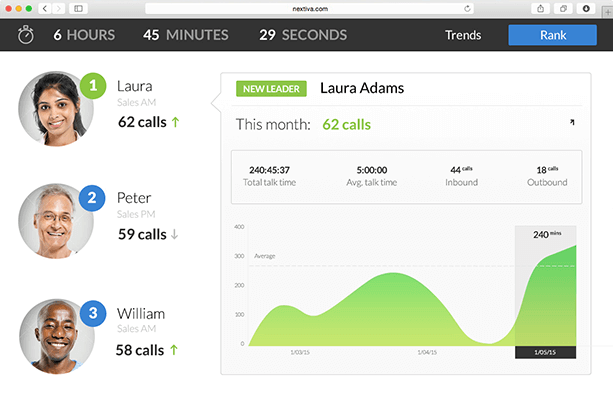 Everyone wins with Gamification
Boost employee performance and engagement with gamification
Create friendly competition between your employees or teams to increase motivation and performance
Gamification has been shown to improve employee engagement by 48% - The Aberdeen Group
Quickly compare employees or teams utilizing multiple business critical factors
No nerd needed
Nextiva analytics is easy for anyone to use - not just those with math brains and tech savvy.
No more waiting on reports from other people - access all your data instantly
Free yourself from that mountain of spreadsheets - create the exact reports you want and schedule them to distribute regularly
Look at your data in beautiful graphs or traditional tables - whatever works for you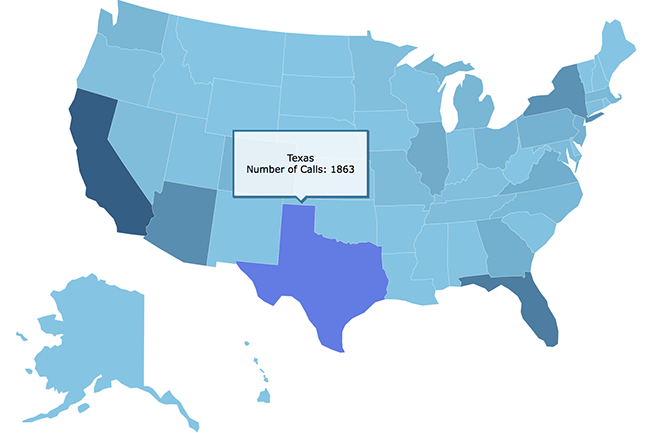 Gamification:
Organizations who deploy gamification can

improve employee engagement by 48%

Businesses with engaged employees have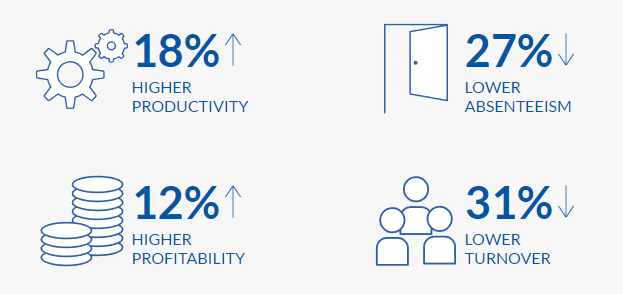 Create competition by displaying a leaderboard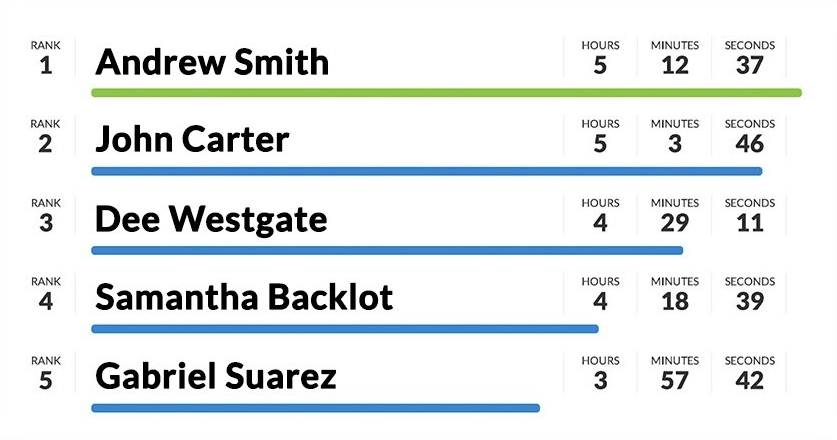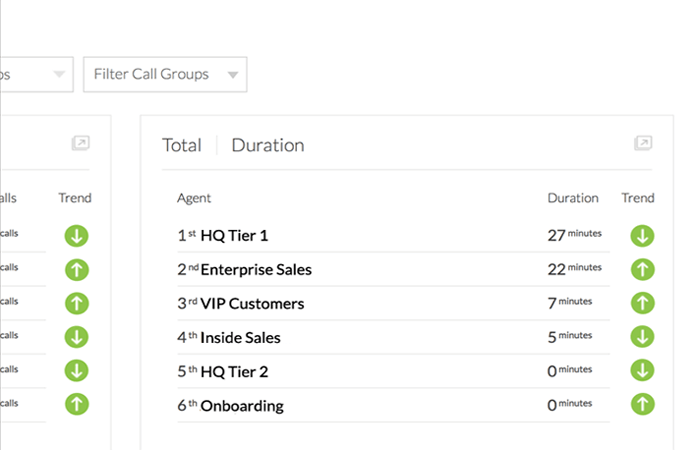 Look at rankings for users, teams, locations, or call groups
Rank by inbound, outbound, or total, and by calls or minutes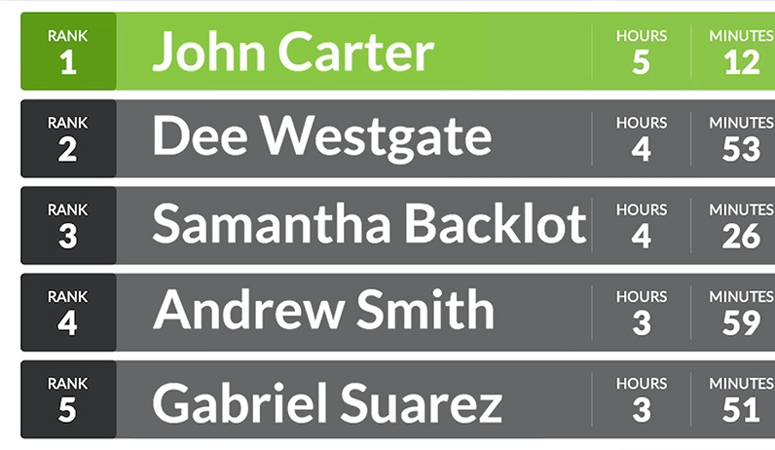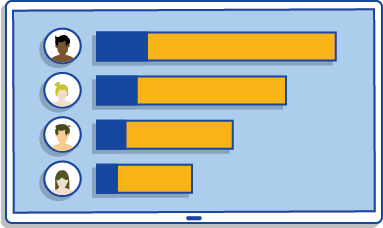 Transparency gives employees a real-time measure of their performance
Call to get a free quote from a specialist.
1.800.886.5369